Manufacturing quality into our products is the hallmark of Omikron Engineering, Inc.
These are a few of the awards and certifications that we have amassed:
Certificate of Registration
ISO 9001:2015 and AS9100D
OMIKRON Engineering
Performance Award
OMIKRON Engineering
Certificate of Accreditation
OMIKRON Engineering
Southern California Manufacturing
OMIKRON Engineering
Excellent Supplier Material
Awarded by Aero Controlex - Sept. 2015
Recognized as an Excellent Supplier for performance history by AeroControlex in Sept. 2015. As an accredited supplier, we have been authorized to conduct "Self-Release" inspection activities for quality and conformity.
OMIKRON Engineering
Employee Saftey Award
OMIKRON Engineering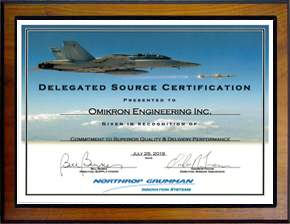 Delegated Source Certification
Awarded by Northrop Grumman
OMIKRON Engineering